Add to favorites
since 1955 La Trobada del Canigó has been a major event for the destination. A delegation from each village climbs to the top of the Sacred Mountain with a bundle of wood bearing the name of the town. It will be placed at the foot of the cross for the burning of the peak and the regeneration of the Flama del Canigó the following week.
Reservations for the evening and the Trobada are made from the Cortalets refuge website. There is no more room at the refuge, you have to plan something to bivouac.
Program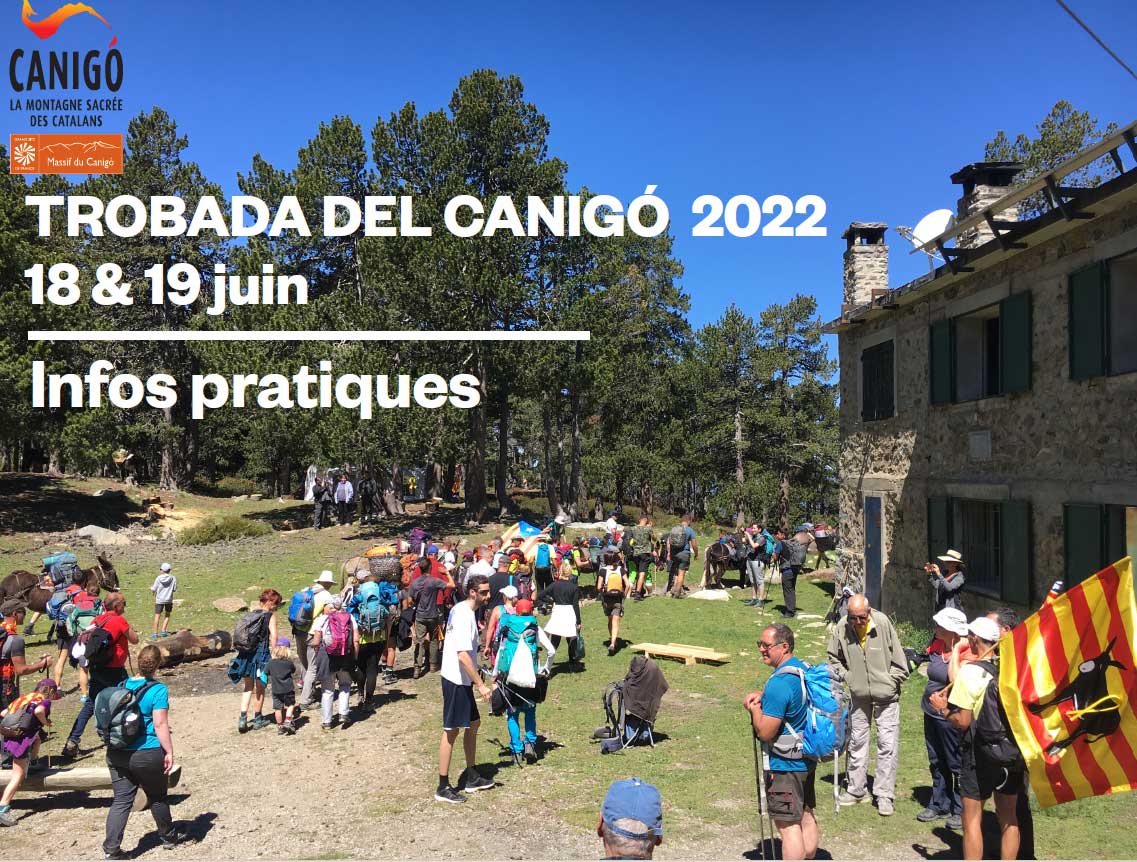 Saturday June 18
8 a.m. – Fillols & Els Masos de Valmanya – meeting of the trobadists
Welcome coffee / pastries offered
The pack donkeys (6 to 8 per departure) will not be able to carry all the luggage and must be considered as a one-time supplement. Everyone is therefore required to streamline their bag and carry it throughout the day because not everything can be carried by donkeys.
PAX – 10€/person & 1€ for -12 years old (Prior registration required on the following link: https://refugedescortalets.ffcam.fr/ – Trobada tab. Max 60 people / caravan
no registration will be taken on site
9:00 a.m. – Departure of the two pedestrian caravans towards the refuge dels Cortalets (D+1300m – 5 to 6h walk)
12:30 p.m. – Picnic taken from the bag (not provided by the organization)
16:00 p.m. – Convergence of pedestrian caravans at Col dels Cortalets
16:30 p.m. – Arrival of the trobadists at the refuge dels Cortalets
17:00 p.m. – Setting up camps
From 17 p.m. – Musical entertainment in front of the refuge
From 19:00 p.m. – Catalan meal offered by the refuge dels Cortalets (19€50 indoors / 15€ outdoors – by prior reservation https://refugedescortalets.ffcam.fr/ uniquely )
From 21:00 p.m. – Entertainment around the shared fire in front of the refuge (songs, stories, conviviality, cramat, etc.)
Cyclist access, via the Llec track from Coll del Forn :
D+1400m – 3h climb / degraded track in natural terrain requiring good physical condition and great control of the bike, especially during the descent on the track.
Sunday, June 19
Before 7:00 a.m. – Free departure to the Pic du Canigó to drop off your fagots (NB: under everyone's responsibility)
From 10:00 a.m. – preparation for the descent, donkey equipment, site cleaning
11:30 am – Departure of the pedestrian caravans towards Fillols and Els Masos de Valmanya (D-1400m – 4 to 5h walk)
12:30 p.m. – Picnic taken from the bag (not provided by the organization)
Between 16:00 p.m. and 18:00 p.m. - Arrival of the pedestrian caravans at Fillols and Els Masos de Valmanya (approximate times)
Useful information
Trobada on foot:
From Saturday 8 a.m. to Sunday 18 p.m.
Good walker – D+1400 m / 5 to 6 hours of walking each day with a loaded backpack
Overnight in a tent at an altitude of 2150 m / random weather
PAX – 10€/person or 1€ for -12 years old
Prior registration required on the following link (no registration will be taken on site) – max 60 people /
caravan: https://refugedescortalets.ffcam.fr/ – Trobada tab
NB: participation in the event is possible outside the two walking trobadas organized by Canigó Grand Site

Trobada by bike
Participation and free access (unorganized convoy) – access (A/R) recommended by the Llec track
Possibility of bike rental:
– Velok adventure – 06 30 16 27 10
– Conflent Escape – 07 66 80 94 09

Saturday evening dinner
Offered by the Refuge dels Cortalets – Catalan meal by prior reservation only on the following link:
https://refugedescortalets.ffcam.fr/ – Trobada tab
– Indoor meal – 19€50 (starter / main course / cheese / dessert)
– Outdoor meal – 15€ (dish / dessert)
NB: Possibility to bring your own catering

Breakfast
Coffee / pastries possible on site – payment at the counter

Night at the refuge – Refuge already full, possible bivouac around the refuge

Canigó Grand Site mixed syndicate – 04 68 96 45 86
Refuge dels Cortalets – 04 68 96 36 19
Founding association of the Trobada: