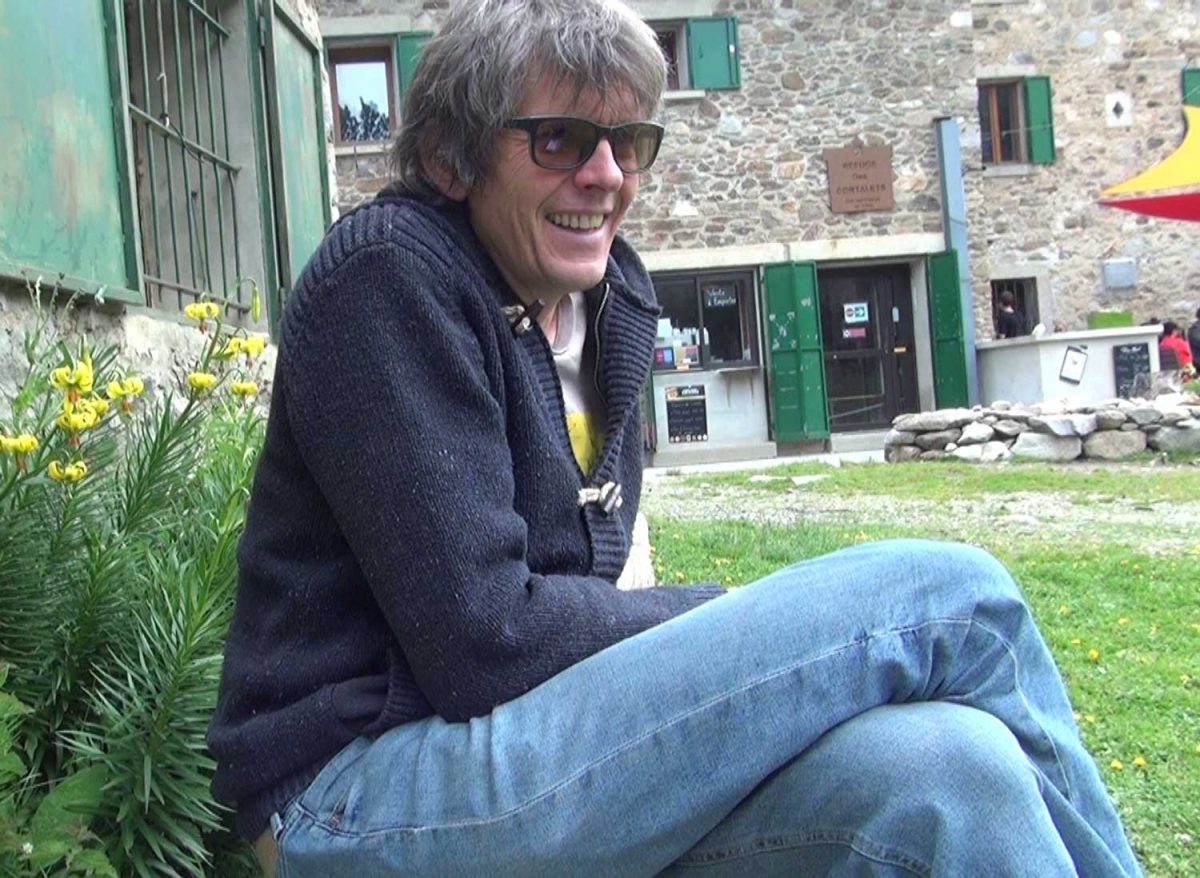 Thomas Dulac
High mountain guide and caretaker of the Cortalets refuge, at the foot of Canigó for 11 years.

I am Thomas Dulac,
High mountain guide and guardian of the Cortalets refuge.
Thomas, are you from this area?
I was born 100 km from here.
Why this desire to come here?
I worked as a guide in quite a few mountains and there were two, three places that interested me to put my feet there. I chose to come here because it was one of the places that I liked because the mountain was quite wild and not yet industrialized by all the ski lifts and the tourist masses. There was a lot of potential for walking, climbing and at the same time there is the possibility of being in the mountains and seeing the sea in the distance and of being there during the day if you want.
You live and work on the Canigó massif, but how did you find out about it? What were your first memories here?
I knew the Canigó massif during my military service. I was a conscientious objector and you could work for an association instead. I was doing 1/50 scale maps for the Pyrenean hiking association and I came to the area. I found it very beautiful. I then wanted to change association to stay and I found the Club Alpin Français de Perpignan which allowed me to go mountaineering for two years on the massif.
Were you already a mountaineer or a hiker?
I was already climbing, it was my passion, I wanted to become a guide
Have you given up on this idea to become a refuge keeper?
No, I worked as a mountain guide, but eleven years ago my daughter was born. He needed a much more present father and the shelter corresponded completely to my expectations. I was in the mountains, my daughter could come see me. Now my second is two years old, she is also happy.
Do you work here and come back often?
No, I only come down to shop. On the other hand, it is my daughters who come up to see me in the summer for the holidays.
If you had to describe your relationship with this massif, how would you describe it?
It's almost a romantic relationship, I have a very strong attachment and I never get tired. I don't get tired, I don't have a moment when I say to myself: hey, I want to stop or I don't want to go through this massif anymore. While there are other massifs where I have done them and I don't necessarily want to go back.
Are you there all year round or only in summer?
I'm there year round. I actually open in the summer for tourists from the end of May to mid-October, but after that I go up there regularly to see if everything is fine and I go mountaineering and ski touring there. I live at the foot, in Prades, so I'm there all year round.
For you, is it a place of leisure or a setting?
How do you perceive this duality between a leisure space and a protected site?
One does not go without the other: if we don't enjoy moving around in something beautiful, we don't protect it.

From the moment people discover through their leisure activities that the massif is beautiful, they want to keep it as it is. The more we move away from it, like in cities or places that are inhuman from the point of view of nature, the less we want to protect it. Because we no longer realize what it was. Leisure is a priority for the defense of the environment. I think there are more people who want to protect the massif because they have come as tourists than there are specialists who come to specifically study a plant or a flower and who, in fact, bring no more than it on the environment. They just bring knowledge.
Do you have the impression that there are more and more hikers who come and manage to appreciate this place?
Yes there are more and more.
In recent years, access to the refuge has only been by hiking. Have you seen a change in the audiences that pass here?
Yes, the change is huge. I came there as a guide, we parked by car in front of the refuge, it smelled of diesel. It was people who came there and left; they used it as a high-altitude restaurant. They did not necessarily appreciate the landscape as a training ground to find harmony between the body and the landscapes. They just came there to observe a postcard, but without really taking part in it. Ten years ago, it was still like that and today, we find ourselves with people who are obliged to have the will to come here. That is to say, to train, to form a team with friends, to plan this stay. There is a whole construction that means that when they arrive here they are much more satisfied than when they got into a car on a chaotic road.
This massif around the Canigó is an important massif for Catalan culture. It is a sacred mountain. How do you perceive this identity? How do you perceive this public which also comes, sometimes, for Saint-Jean only?
There is an environment linked to the fact that there are people who perhaps haven't necessarily done something with their lives and who want to be recognized. In the lottery of life, they were born Catalan and therefore they claim it because they have no effort to provide. So there are a lot of people who come here with this conquering state of mind, as if they had something in them that they had acquired whereas it is totally innate and there, it does not bring much . Afterwards, there are many Catalans who are in love with Nature, the landscape, culture and there, they bring me a lot, yes indeed. With traditions, legends... This allows some people to find meaning in their lives, to progress a lot in culture and to want, precisely, to protect the massif. After the Trobada it was precisely (a gathering event) that people (whose) the only thing they knew how to do was raise a flag. But it didn't go beyond that and, when the Trobada was over, we were picking up trash and that had no Catalan value.
I much prefer the Trobada of today, where people go up on foot, where they have values: they want to share Catalan music, the language, the traditions all at the same time. That is something very strong, yes.
And we, moreover, at the refuge, we bring Catalan dishes to tourists who appreciate not having the same dish everywhere: when they go to Brussels they have a Belgian dish and when they come to us they have a Catalan dish. That's what makes them want to discover and that's why we mustn't lose this culture, but we mustn't make it a banner of people who, by chance, were born there and don't have nothing else to contribute.
You yourself gradually entered Catalan culture. Was this done with specific people?
I lived for 12 years with my partner who was Catalan and I did not feel, at the start, a very very strong culture. I traveled a lot and there was not a strong identity there. I find that today the identity is a little stronger and it is a little more cultural.
Do you find it stronger because you are in a place that is important, with its specificity?
No, the place is part of Catalonia, that's for sure, but… It's not just geography; there is the language, the history, the music, the food. There is all that what Catalonia does.
Do you speak Catalan yourself?
I manage in Catalan. My daughter speaks Catalan fluently. She was born in Ariège, but she arrived here quickly and went to school in the Bressola, so she is fluent in Catalan. Me, I manage to speak with the Catalans, to understand them at least.
You have a team with you. Are your colleagues French, Catalan, Spanish? Is it a mixed team?!
Yes, there are French, Catalans and there were also a whole bunch of other nationalities. The main thing was not necessarily where they were born, but what they managed to bring to tourists and I think it is as important today to speak Catalan as English, German or Spanish. We are here to welcome people, to give them a taste of the particularities of Catalanity and, for that, you have to be able to speak all the languages. It is necessary to be in the meeting of the other and not in exclusion.
Approximately how many people pass here?
We make about 5000 overnight stays per year.
That gives roughly how many people per summer evening?
It depends because there are also people in tents. I think that on heavy days we arrive at 200 people on the massif around the refuge. Afterwards, on bad weather days, there are ten of us: sometimes there are more employees than customers.
Today there are many electric bikes arriving at the shelter. Will a new clientele?
Yes, it's a totally new clientele. And it's an interesting clientele because there are a lot of people who have let their bodies fall aside: they don't care about it anymore, they park closest to the supermarket so they don't have to walk... become a little people subject to the dictates of engines and oil and they do not realize it. The electric bike allows them to do sports with the little they can provide. That is to say, they have a taste for providing sport and they are not disgusted by it. In this, the electric bike is a good transition to regain a taste for your body and then, little by little, why no longer have an electric bike and have a normal bike? I think it's a very good transition: there are a lot of people who come by electric mountain bike to the refuge.
Do you notice more families with these mountain bikes?
No, there are no electric mountain bikes for children yet. It must exist, but it is not yet democratized. And then, it's a price that is considerable and as the child grows, it's something to do rather in rental.
So (it's about) more an adult audience (ranging) to retirees I imagine?
Yes, retirees and people who have gained weight, people who physically couldn't come that far… Mountain biking still allows them to get there.
Most people come for the peak or is it an opportunity for them to discover all the other trails?

The spike is kind of the icing on the cake, but it's not necessarily the end goal.
The end goal is to walk, to meet up in the evening with people you don't know to be able to discuss, share and challenge yourself.
But actually, the peak is a bit what attracts, what loves, but it's not necessarily where all people go.
Lots of people doing the Canigó loop today?
Yes, more and more every year.
Do you sometimes use this refuge to schedule meetings? Do people also come to spend an evening here, on the occasion of events?
We do events but it doesn't really correspond to the place. We've done music festivals, mountain art festivals, we regularly have a few small concerts, but that's not people's priority. The priority is precisely to be able to find each other, to be able to have time to discuss. We have a big advantage, it's that the network isn't going well so people don't have their phones anymore and have to talk to each other.
You are doing a promotion of the white valleys. (laugh)
Yes, maybe yes, but for those who absolutely want to put wifi everywhere, they should come to these places. They would understand that in fact the human is above the connection.
It's a great ending!