"Boles de Picolat" are minced meatballs served with white beans in a spicy tomato sauce, green olives, porcini mushrooms or pine nuts.
There are as many versions as there are families in which they are cooked, as many variations as inspirations of the moment… and yet still just as good!

Type : hot dish, meatballs in sauce with white beans
Preparation: 2h30
Cooking: 2 hours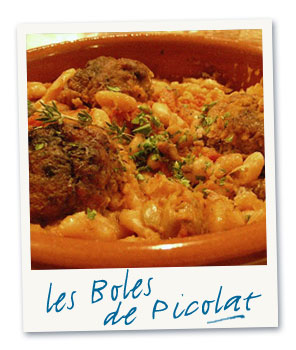 Ingredients (5 people)

• 400 g ground beef
• 300 g ground pork or sausage meat
• 120 g pork belly, diced
• 2 eggs
• 4 cloves garlic
• 2 onions
• salt, pepper and parsley
• 1 slice of dry bread
• 100 g of bacon
• 5 beautiful tomatoes or 1/2 liter of tomato pulp
• 200g pitted green olives
• porcini mushrooms
• 1 bouquet garni
• flour and olive oil
• 800g white beans soaked the day before
For the sauce:
• 100 g of mirepoix (carrot and onion, diced),
• 50g pork belly,
• 30 g of flour, 65 g of tomato puree,
• 50 cl of veal stock,
• 3 cloves of garlic,
• 1 bouquet garni.
• 200g pitted green olives
Prep time
• Soak the porcini mushrooms in a bowl of lukewarm milk. When they have softened, remove them and soak the dry bread in this same milk.
• Drain the water from the beans and put them in a casserole dish. Fill with water to the height, add the bouquet garni and the garlic cloves. Season with salt and pepper, cover and cook over low heat for about 1h30: the beans should be cooked.
• Fry the mirepoix and the diced brisket in a little olive oil, then sprinkle with flour to ensure that the ingredients bind together. Add the peeled, seeded and quartered tomatoes (or tomato pulp). Let this mixture reduce so that it melts and thickens.
• Cook for a few minutes, then leave to cool. Cut the tomato into large pieces, add it to the preparation. Moisten with the veal stock and bring to the boil. Peel the garlic, add it with the bouquet garni and season. Cook for 1h30 covered.
• In a salad bowl, mix with your hands the ground beef and pork, the drained breadcrumbs, the 2 eggs, the sliced ​​mushrooms (keep some for the sauce) and 3 tablespoons of minced garlic and parsley, then salt and pepper.
• Form the stuffing balls, they must be as round as possible and be about 5 or 6 cm in diameter, flour them so that they do not stick
• Lightly brown the chopped onions in a pan in a little butter, then decant them and set them aside. Sear the meatballs in a little heated olive oil without overlapping. Turn them over to cook them on all sides.
• Add the boles and the rest of the porcini mushrooms to the tomato sauce. Bring to a boil and simmer over low heat, covered, for 30 to 40 minutes. Monitor cooking.
TIPS!
You can form them into 'boles' (balls) with slightly wet hands, which avoids flouring them.
A variant by replacing the mushrooms with pine nuts or olives.